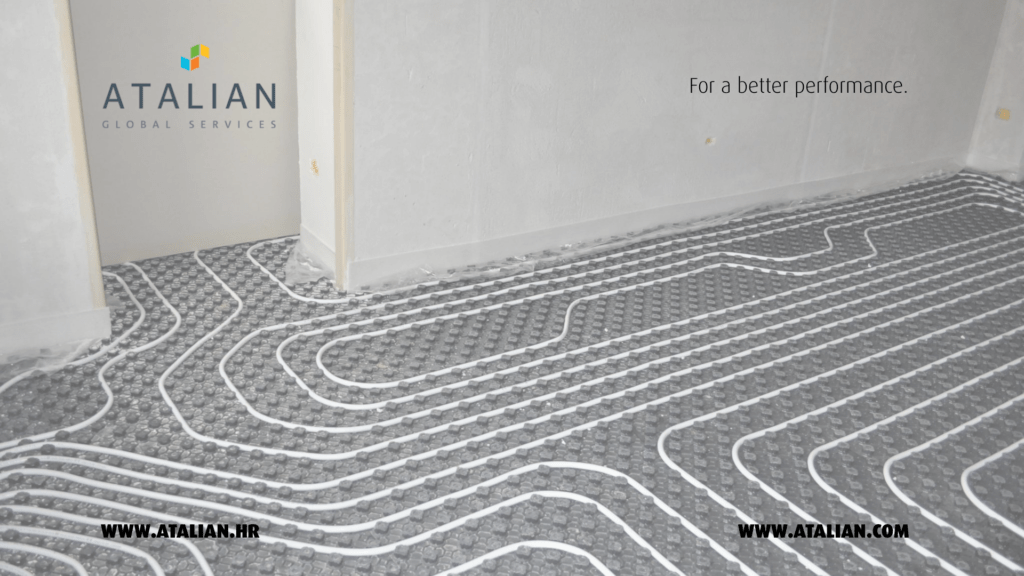 Advantages Of Underfloor Heating
Temperatures are dropping, and the heating season has begun. Colder days remind us that winter is coming and the heating season with which we feel comfortable. Several possible heating systems exist, such as traditional solid fuel heating, electric heating, solar heating and underfloor heating.
In one of the previous articles, we reminded you of the steps for radiator cleaning, and in today's article, ATALIAN Global Services Croatia lists the advantages of underfloor heating.
Each heating system has its advantages and disadvantages.
For example, solid fuel heating is the oldest thermal energy source and most economically profitable. However, only some have the conditions for a wood-fired heating system, which includes storage space and a chimney that needs regular maintenance.
Electric heating is used where gas or the city heating system is unavailable. It is easy to use, but depending on the system, it can be expensive or cheap.
Gas heating is used most often in buildings and houses that have the possibility of connecting to a gas pipeline. This contributes to simplicity and economic profitability.
The modern heating system is solar, which is the most environmentally friendly. It requires a high initial investment but pays off in the long run.
Advantages of underfloor heating
With underfloor heating, you can realize many advantages compared to other forms of heating. Installation is simple, and no major construction work is required. The initial installation price is slightly higher than other heating systems, but it is worth it in the long run.
The system is more energy efficient and requires less maintenance. Choosing underfloor heating increases efficiency. You will save up to 35% of the funds intended for the heating system. The lifetime of underfloor heating is long, which is one of the most important advantages.
Floor heating can be installed anywhere, whether it is a living room, a bathroom, another area or a business building. A significant advantage is possible with implementation on external surfaces such as balconies. It is an excellent option for the even distribution of heat and quick heating of the space.
It belongs to the comfort heating method and does not raise dust and does not dry the air, which is more health-friendly than, for example, classic radiators. Also, it does not take up space unnecessarily and does not spoil the visual impression as radiators do.
With all the mentioned advantages, it is not surprising that underfloor heating is an increasingly common choice when choosing a heating system!