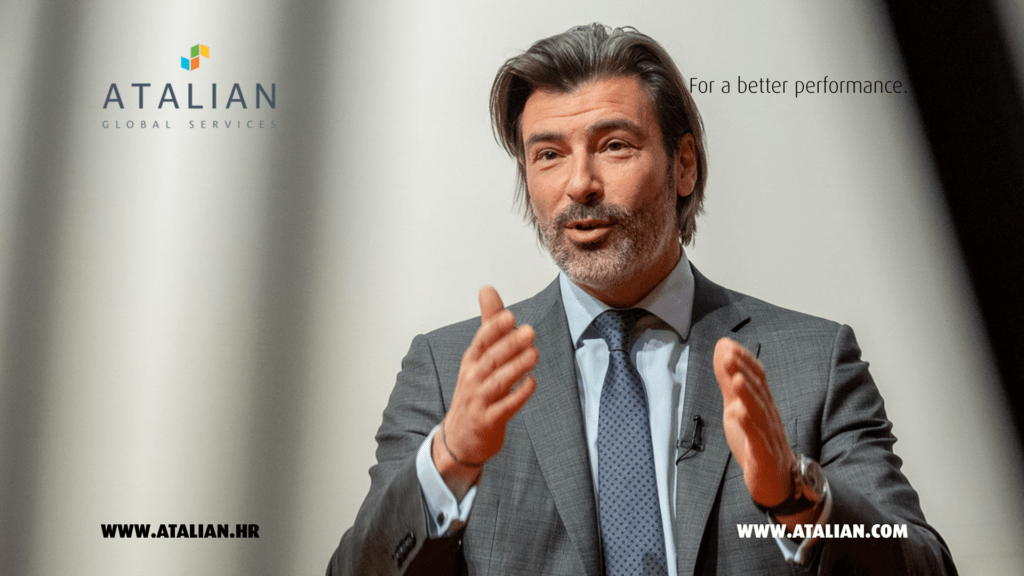 Interview with Maximilien Pellegrini
Maximilien Pelligrini joined the ATALIAN Group as Group CEO on May 2, 2023. Discover a piece of atmosphere when ATALIAN welcomes a new Group CEO in the photo gallery. He answered our questions about his career within the Suez Group and the challenge of his future mission for our new ATALIAN report.
You were with the Suez Group for more than 20 years. How would you summarize your journey?
 My career path has been one of a man with passion who has never stopped learning from contacts, whether colleagues, employees or customers. It has led me to carry out many responsibilities throughout the value chain of service professions in France and abroad. After starting my career in finance, I quickly took on operational duties. I was first appointed Managing Director of the Suez Group's Spanish subsidiary, which I restructured in 2008, at the time of the financial crisis, and then expanded internationally in Africa, the Middle East, South America and Australia. Then in 2013, I joined the United States to turn around the group's industrial activities. In 2018, back in France, I was in charge of transforming the prestigious Lyonnaise des Eaux. After the takeover in 2021, I was then appointed as the Suez Group's Chief Operating Officer to lead all activities in France (water and waste) that employed 27,000 people, and that had a turnover of €5.4 billion.
My background has given me a good understanding of the importance of loyalty in difficult times, of teamwork as part of success, and of the necessary hindsight in managing the crises inherent in any company.  
Why are you joining the ATALIAN Group today?
The decision to leave Suez wasn't easy, just as it wasn't easy for Frank Julien to decide to hand over his company's management. In reality, it's the story of a meeting between two men. We're both committed to ATALIAN becoming the world leader in its businesses.
I'll make every effort to ensure that my knowledge of service professions, international aspects and complex situations serves the company's project. The common thing within the service professions is that they're always based on the commitment of the teams and the mobilization of the corporate body. I like the idea that all successful entrepreneurial stories are first, and foremost the result of successful encounters.
In addition, very committed and sensitive to diversity and social inclusion, I'm committed to doing everything possible to ensure that the company fully assumes its societal role.
Your objectives are over the long term…
I believe in effort, work, and the long term. As a young man, I spent my summers on construction sites with my father, who instilled in me the spirit of a builder that still drives me today. Commitment is my foundation, and I'm convinced that only time should judge our actions. At almost 50 years of age, my choices are mature and thoughtful. ATALIAN chose me, and I chose ATALIAN. This choice only makes sense if it's made over time.
What similarities do you see between ATALIAN and Suez?
ATALIAN is a company that has demonstrated great resilience in the face of difficulties. Suez has also gone through some difficult times. With this experience, I know how much the commitment of the teams in the field and the trust of our customers make a difference. These are the most valuable assets of a service business. In addition, these two companies have known how to develop throughout their history. The services market is a huge source of activity, both in the content of the services and in geographical terms. The talent of our companies is to understand and anticipate the needs of our customers and to respond to them in a responsive and competitive manner.
What will be your priorities?
I'm very aware of the importance of corporate culture. A new chairman must bring a new and critical eye, but he must also understand the values and codes that have made the company successful. This alchemy requires listening, trust and respect. This is the mindset that's essential to any success. As a team, we'll lay out a strategic roadmap that will address emergencies and define our vision and ambitions over the long term. In the short term, I'll obviously be very involved in debt refinancing.
How do you intend to address the challenges facing the Group?
My motto is simple: nothing stands up to work! The company's objectives are those set by the market and by our customers, but without forgetting our employees. If the goals are ambitious, it's because the market is competitive and demanding. It's up to us to find the right levers to adapt. I think that there are opportunities in every situation. We'll have to identify and implement them. I would also like to take this opportunity to pay tribute to the outstanding work of the ATALIAN teams that completed the disposal operation, which now enables us to look to the future with peace of mind.
What will be your first actions as you take up your position? 
First, I'll meet with the teams and our customers. This will be a very important moment of exchange for me to better understand our challenges, strengths and areas of improvement. My second goal, in the short term, is to surround myself with a strong management team to meet our challenges. At the end of this period, I'll propose a strategic plan to Franck Julien, whom I would like to thank again for his trust.