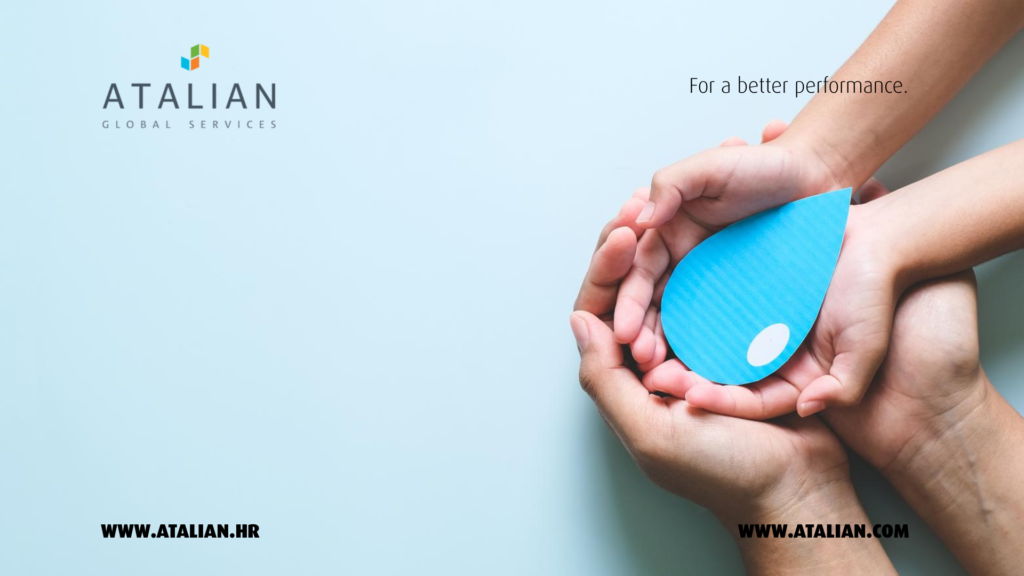 ATALIAN brings tips for saving water in the workplace
Energy saving, i.e. sustainable business, is essential for standing out in the sea of ​​companies and for better quality work and life in the long term. The fact is that we spend more energy and resources than is necessary. In dry periods and those that are not, it is essential to pay attention to water consumption. That's why ATALIAN offers tips for saving water in the workplace. The above contributes to a more sustainable business and the reduction of bills.
Monitoring water use and brainstorming ideas
First of all, it is necessary to start monitoring water consumption. Track the amount of water you have consumed in your accounts, where you can see how much water you have used in a certain period. Collect other information, for example, what employees think about water consumption. After that, identify the problems contributing to higher water consumption and brainstorm ideas to solve those problems.
Encourage employees to save water
Your employees are very likely to use more water than is necessary. Talk to them, warn them about the problem and advise them on how to change it. Even small changes can make a big difference. You can discuss this topic in meetings and determine which person will keep water consumption records. Try to set specific goals – for example, to reduce water consumption by 10% in the next six months.
Install taps with limited water flow
During the working day, employees often go to wash their hands. Therefore, to save water, it is necessary to fix leaking taps. In addition, we advise you to install taps with a limited water flow and those with a mixer, which leads to faster heating.
Install efficient shower heads
If you have built-in showers on your business premises, it is also important to inspect them and repair them if they leak. Install efficient shower heads, the advantage of which is reduced water use by up to 40%. Additionally, ask your employees to take shorter showers.
Install toilets with a dual flush option
Unlike standard toilets, we recommend those with the option of two different flushes. So you will have the opportunity to rinse with a smaller amount of water. As for repairs, the same applies to faucets and showers. Repair the toilets as soon as possible if they are leaking.
Set up a dishwasher
Place a dishwasher in the kitchen of your business object. Namely, they use less water than hand washing. Also, choose ecological washing machines that consume less energy. Before starting the washing machine, make sure that it is fully loaded.