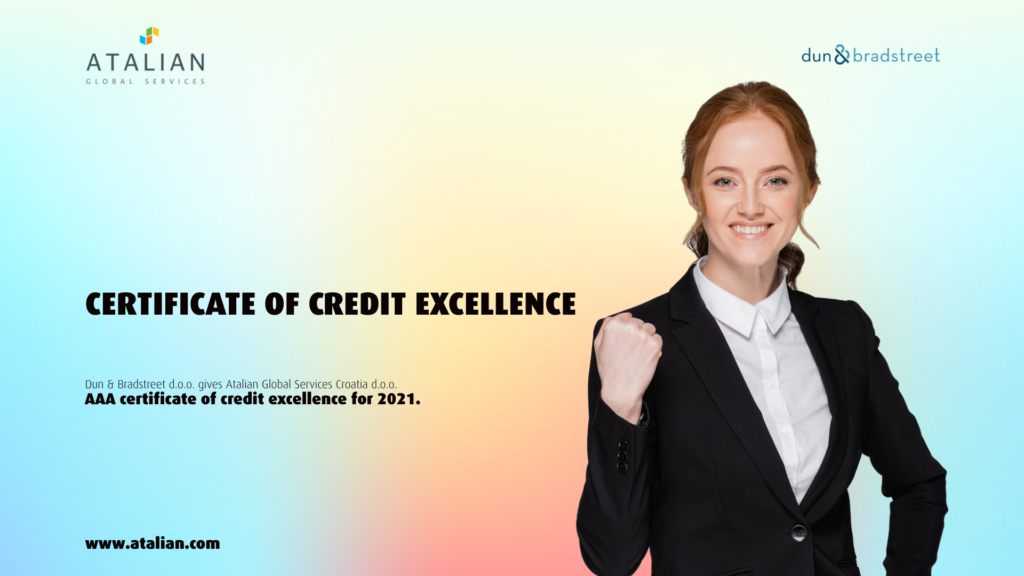 Atalian Croatia won the International Dun & Bradstreet Bisnode certificate of credit excellence
Dun & Bradstreet d.o.o. has been helping clients and partners grow and thrive for almost 200 years thanks to the power of data, analytics, and data-based solutions.
Atalian Global Services Croatia d.o.o. also proudly joins the community of Dun & Bradstreet d.o.o. great companies!
WHAT IS CREDIT EXCELLENCE?
Credit excellence is a registered trademark of Dun & Bradstreet d.o.o., a business information and analytics company that is part of the international Dun & Bradstreet Group, present in 18 European countries with 2,100 employees.
The credit rating of excellence represents the above-average creditworthiness of the business entity and is based on the financial statements of the entity, in this case, Atalian, of the last business year. Also, the assessment predicts job security in the next year.
Credit rating excellence is built on the Dun & Bradstreet business database, which contains data from 1994 to the present. The model includes more than 300 variables and predicts the probability of company closure, insolvency (bankruptcy, compulsory settlement, liquidation, preventive restructuring), inclusion in the list of taxpayers, or blocking of company accounts for more than 90 days in the next 12 months.
There are three classes of creditworthiness:
A – high class credit rating excellence class in Croatia;
AA – higher class of creditworthiness excellence in Croatia;
AAA – the highest class of credit excellence in Croatia.
EXCELLENT COMPANIES ARE SUCH FOR A REASON
Excellent companies manage most of the total business assets, generate most of the revenue in the state, employ far more than the total number of employees, and outperform both in efficiency and in the profitability of the business! Business with them is less risky.
Atalian Global Services Croatia d.o.o. can proudly "hang on the wall" another in a series of certificates that confirm our excellence. With the Dun & Bradstreet Bisnode international certificate of credit excellence, we officially belong to AAA – the highest class of credit excellence in Croatia, which only 0.47% of companies in all sectors in the Republic of Croatia can boast of!
Due to the current situation with the pandemic, and its negative consequences for the economy, the conditions for obtaining a certificate of creditworthiness excellence have been tightened. Following stricter criteria than in previous years, they have adapted to the uncertain market situation. Therefore, our achievement is even more significant.
AWARD CEREMONY OF THE CREDIT CERTIFICATE OF EXCELLENCE
The award ceremony of the International Certificate of Excellence was held on Friday, October 1, 2021, which was attended by all who had the opportunity to become part of this international community ie all who were awarded one of the certificates, with the organizers who did their best and were wonderful hosts.
The participants were also more than in the mood, happy and cheerful, and you can see what it looked like in our photo gallery at the end of the article. Each of the representatives of certified companies had the opportunity to say something, and on that occasion the President of the Management Board of Atalian global Services Croatia d.o.o., Mr. Zvonko Ceranja said:
"We are immensely proud of this recognition, which, based on international methodology and financial analysis, places us in 0.47% of companies in Croatia. In the international environment, such certifications are a well-established practice, and they represent an opportunity for business entities to further strengthen their reputation and trust in the domestic and international business environment. The Certificate of Creditworthiness is one of the recognitions by which we prove to our current and potential business partners that we are a responsible, professional, and transparent company worth doing business with while ensuring business security. This recognition is a confirmation of many years of systematic and quality work that places us at the very top of the domestic economy, side by side with companies from the European Union. "