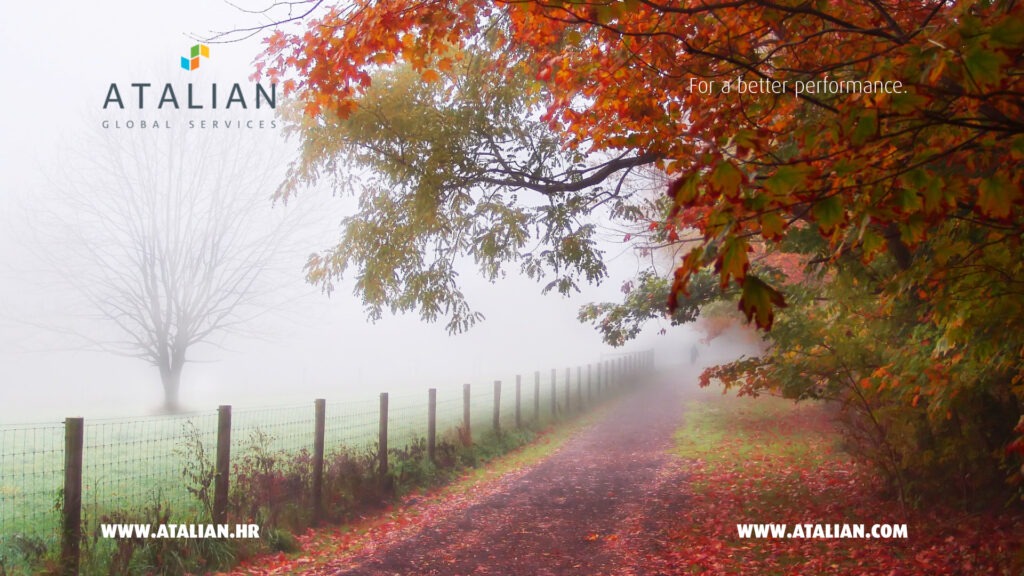 The Ultimate Autumn Maintenance Checklist by ATALIAN Global Services Croatia
As summer winds down and the first hints of autumn appear, it's time to transition your focus from outdoor fun to preparing your properties for the colder months ahead. At ATALIAN Global Services Croatia, we understand the importance of comprehensive autumn maintenance to ensure the safety and comfort of your residents. This article has compiled an all-encompassing autumn maintenance checklist tailored to different regions and climates. We've covered you from snowy landscapes to wet areas and even warmer, dry locales.
Cold, Snowy Regions
In regions where snow is expected, proactive maintenance is critical to avoiding costly damages and ensuring resident safety.
Clean Your Gutters: Clear out accumulated leaves and debris from gutters and downspouts. This prevents water from getting trapped and causing ice dams, which can lead to roof leaks and water damage.
Prep for Pests: Seal potential entry points for rodents and pests. Consider setting traps and collaborating with exterminators to prevent unwanted guests from seeking refuge in your properties.
HVAC and Chimney Check: Schedule HVAC inspections to catch any issues before they become emergency repairs. Also, ensure chimneys are inspected and cleaned to prevent creosote buildup and critter invasions.
Winterize Plumbing: Insulate exposed pipes and disconnect outdoor hoses. Properly shut off and drain outdoor spigots or wrap them in insulation to prevent freezing and bursting.
Roofing Inspection: Secure loose shingles and flashing to prevent leaks. Address gaps around chimneys and vents, and clear flat roofs of any potential debris that could damage them.
Clear Brush and Dead Branches: Remove dead branches and overgrown brush to prevent damage during storms and maintain your structures' integrity.
Fire Safety Plan: Review and distribute fire safety plans to residents, emphasizing proper usage of heating and lighting devices. Address potential fire hazards associated with winter activities.
Prepare for Snow Removal: Audit your snow removal equipment and establish contracts with removal services in advance. Ensure all equipment is ready for the first snowfall to prevent disruptions.
Wet Regions
For regions with increased rain and wet conditions, safeguarding against water damage becomes paramount.
Seal Basements and Drainage: Inspect basements for cracks and gaps and ensure proper drainage from foundation walls. Consider using dehumidifiers to control moisture levels.
Floor Protection: Place absorbent mats at entrances to prevent water and mud tracking. Invest in heavy-duty door mats to protect floors and carpets.
Sleet and Freezing Rain Preparations: Stock salt for de-icing pathways and steps. Shield shrubbery and store awnings to prevent damage from ice accumulation.
Termite Prevention: Termites thrive in moist environments. Reduce mulch usage, direct runoff from foundations, and keep firewood and wooden building elements away from the ground.
Warmer, Dry Regions
Even in warmer, drier climates, autumn maintenance is essential for the longevity of your properties.
Shingle Inspection: Check for shingle degradation caused by the sun's heat. Worn or faded shingles can compromise your building's integrity.
Lawn Care: Maintain your landscaping by overseeding with ryegrass to keep lawns green during cooler months. Feed and aerate the soil for healthy growth.
Start Making Your Autumn Maintenance Checklist Now
Transitioning from summer to autumn is ideal for your autumn maintenance preparations. By addressing these tasks early, you'll ensure the safety and comfort of your residents throughout the colder months. At ATALIAN Global Services Croatia, we're here to help you manage your property maintenance needs year-round. Don't wait – take action now to safeguard your properties against the challenges of the upcoming season. Contact us today for professional facility management services that prioritize the well-being of your properties and residents. Call us now, and be prepared for whatever this winter brings.