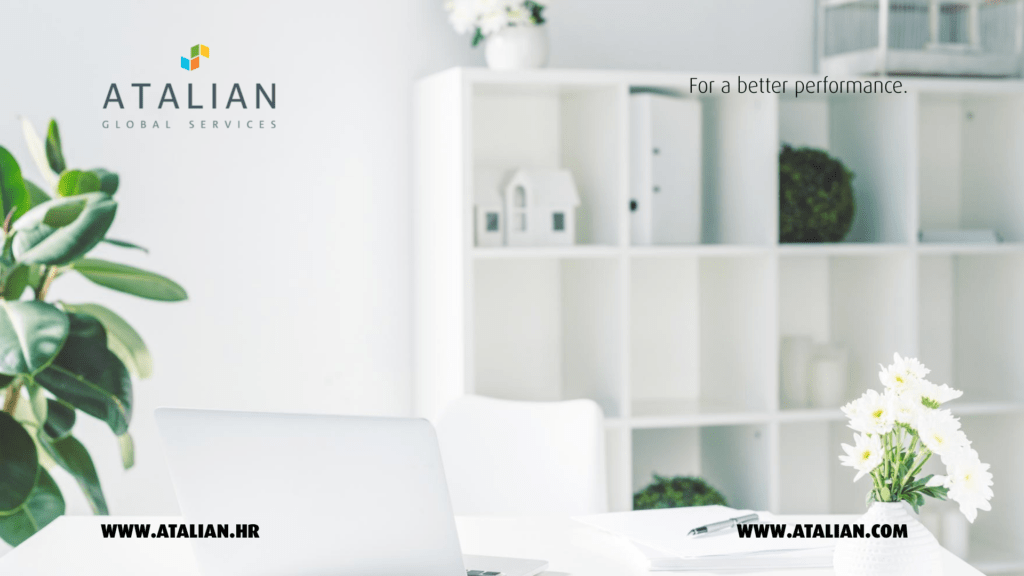 Arrange offices in a modern and creative way, and bring a smile to employees' faces
Pandemic times increase the number of employees working from home, and work conditions adapt to new challenges. A certain employees number are enabled to work from home, and many employers use that option.
The pandemic's negative impact has reduced, and employee returns to offices have begun. Somewhere there were also employees resistance considering the comfort when working from home. It prompted employers to think about workplace functionality and how they can make it more pleasant.   
In addition to enhanced hygiene conditions, the emphasis is on creative and modern setups. Therefore, ATALIAN Global Services Croatia presents a possibilities overview for a pleasant, fashionable and functional workspace.
Workplace size
With the reduced number of employees in the offices, the question arises whether it is necessary to stay in the same space size. Many offices are empty, and employers are reassessing the workspace and how to use it to the maximum. The goal is to enable flexible, hybrid work and the possibility of returning to the smaller workspace.
Transforming furniture
Smaller offices cannot contain occasional office furniture that takes up space. The ideal option is to choose multifunctional furniture that maximizes the reduced space.
For example, use transforming tables, seats and storage. Therefore, instead of free-standing tables, you can use folding ones that you assemble and disassemble as needed. Such tables can also be converted into tables for conference meetings and used when is necessary.
How to make a more comfortable workspace?
After returning to the office, employees want to feel comfort and convenience. The space should be safe and relatively personal. Try to provide employees with storage space for personal belongings, such as personalized lockers.
Advantages of a modern and flexible workplace
Adapting to the new everyday life and setting up a more functional, modern and pleasant workspace shows readiness for new challenges. Employers' empathy towards employees stands out. That will increase employee satisfaction and productivity, and the workplace will be very stimulated for business progress.